November 9, 2018 10:50:02 am
Janatha Garage movie review: The movie is nothing but a pathetic adaptation of Ram Gopal Varma's Sarkar, with a lot of colour and commercial elements added.
January 8, 2019 4:25:42 pm
What can $300,000 make you do? For one, ignore all that can go wrong with a robbery attempt at the house of a blind Iraq war veteran living in a deserted part of town, with only the memories of a dead daughter and a Rottweiler for company.
September 13, 2018 6:33:52 pm
Skiptrace is the process of locating a missing person, especially a debtor, usually by an insurance firm. What is the word doing in a film about a Chinese policeman (in Hong Kong) looking for an American who may have stolen money from a casino in Macau (that other Chinese territory), which is run by a ganglord known as the 'Matador', is a moot question. As is, how do the cop and the American land in Siberia, amidst other Russian goons, and then trek their way all the back to China through Mongolia and the Gobi desert?
September 19, 2018 6:54:56 pm
The contemporary Chan, called, what else, Jack, does the same. Accompanying him are a bunch of youngsters calling themselves professors and teaching assistants, but who have basically been hired to look admiringly at Chan doing his stuff.
December 14, 2018 10:12:58 am
India has had a slew of web series of late. However, it is still hard to find a show that can give that much-needed feeling of intrigue when the first episode begins and satisfaction as the last one ends. It is rare for a series to keep you hooked throughout, but the newest Hungama original, […]
June 18, 2020 2:38:36 pm
Jolly LLB 2 movie cast: Akshay Kumar, Huma Qureshi, Saurabh Shukla, Annu Kapoor Jolly LLB 2 movie director: Subhash Kapoor Jolly LLB 2 movie rating: 3.5 stars Jolly LLB 2 is the kind of film Hindi cinema used to make at a time when its primary activity was to tell a rousing tale, using star power […]
September 14, 2018 11:15:08 am
ALL people associated with this film are law-abiding citizens." Yes, films have come to that now. The Ghazi Attack starts with this disclaimer, before going on to declare that its intention is not to outrage or offend anybody, that it doesn't in any manner support the expressions used by its characters, and that it makes no claim to historical accuracy.
September 14, 2018 11:15:43 am
Cast: Taraji P Henson, Janelle Monae, Octavia Spencer, Kevin Costner, Jim Parsons, Kirsten Dunst, Mahershala Ali, Glen Powell Director: Theodore Melfi Rating: Three and a half stars Three Black women made an invaluable contribution to the US space programme in the years when the Cold War was at its height, and the race to be […]
September 14, 2018 11:28:15 am
Cast: Andrew Garfield, Adam Driver, Liam Neeson, Ciaran Hinds, Tadanobu Asano Director: Martin Scorsese Rating: Two stars There are some films whose intention is so noble that they overpower the entire thing: the plot, the performance, and everything in between. 'Silence' is one of those. Based on a 60s novel which tells the tale two […]
September 14, 2018 11:16:44 am
Hebbuli movie cast: Sudeep, Amala Paul, V Ravichandran Hebbuli movie director: S Krishna Hebbuli movie rating: 2 Actor Sudeep's new film Hebbuli (Ferocious Tiger) was released amid an unprecedented buzz. Last Sudeep-starrer that filled the audience with such anticipation was 2012 bilingual film Eega, directed by SS Rajamouli. The fantasy revenge drama helped Sudeep expand his territory beyond […]
April 10, 2019 12:44:32 pm
[Charania] Dirk Nowitzki says he is indeed retiring. Twenty-one seasons with the Dallas Mavericks. Future Hall of Famer. What a career. from r/nba //embed.redditmedia.com/widgets/platform.js Rangoon movie cast: Kangana Ranaut, Saif Ali Khan, Shahid Kapoor, Atul Kumar, Richard McCabe, Saharsh Shukla, Satoru Kawaguchi Rangoon movie director: Vishal Bhardwaj Rangoon movie rating: 1.5 stars When, within a […]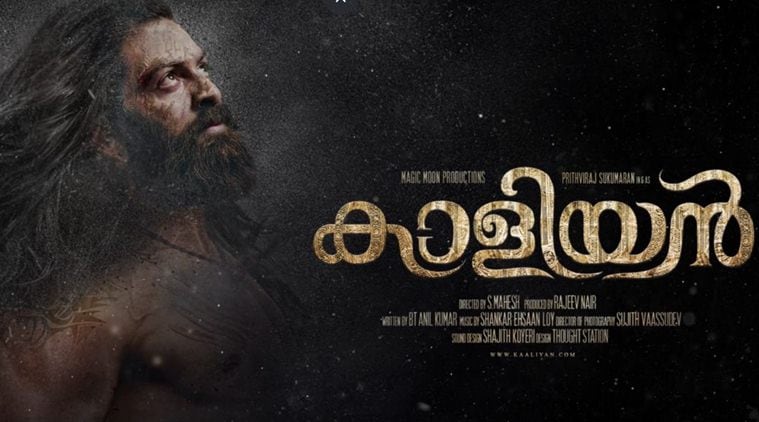 May 13, 2020 4:23:12 pm
The first look and the title of Kaaliyan were unveiled earlier this year. Sporting long tresses coupled with a thick-beard and beefed up physique, Prithviraj looked every inch like a warrior in the character poster.