By:
Trends Desk
| Kolkata |
January 16, 2017 7:42:24 pm
Dangal may have become the biggest Bollywood film and Aamir Khan's best yet, but the popular verdict is that the film stands out because of Khan but the stellar performances by his reel-life daughters — Fatima Sana Shaikh, Sanya Malhotra, Suhani Bhatnagar and, of course, young Geeta, Zaira Wasim.
Only 16 and the little Wasim has stunned and mesmerised the world with her talent. Recently, the young Kashmiri girl also met with CM Mehboofa Mufti after making her state proud with her much-acclaimed performance. But little did she know that her innocent rendezvous would turn into a national debate, drawing such severe backlash.
Pictures of the J&K CM and Wasim posing together went viral, and many were irked by the meeting. So much so that the young actor was trolled and bullied for just meeting Mufti – which caused the teenager so much grief that she even uploaded an apology post on Facebook. Without taking names, the Dangal girl wrote, "I know that many people have been offended and displeased by my recent actions or by the people I have recently met." While Wasim was regarded as a role model and youth icon from the Valley in turmoil, the budding star wrote, "I do not want anyone to follow in my footsteps."
Wasim understood the sensitivity of the situation prevailing in the Valley since July, after Burhan Wani's death and the series of protest and violence that has plagued the state, but also pleaded to all to remember she is just a child. "I hope people can also understand there are certain circumstances that emerge which one cannot control and I hope people still remember that I'm a just a 16-year-old girl and I hope you treat me accordingly."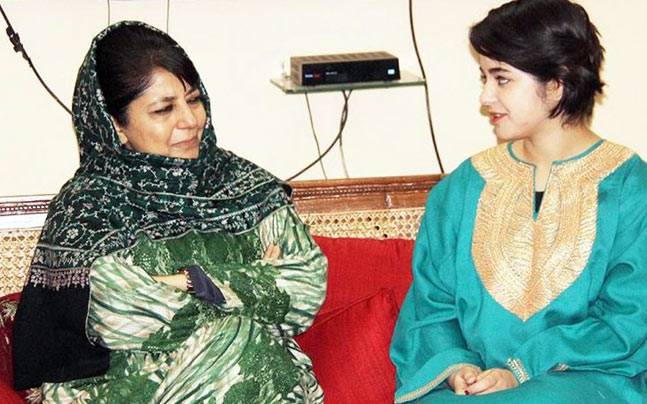 But interestingly enough, soon after writing the 'apology', she deleted it, soon following it up with another clarification – which she again deleted. But moments after Wasim issued the first apology, people were in shock at how 'bullying forces' had pushed a little girl up against the wall. While few tried to comprehend why she said sorry, many said: "what are we putting a teen through exactly?"
Netizens expressed their support for Wasim, saying she should not be ashamed but proud of her achievement. Even former J&K CM Omar Abdullah moved beyond his political differences and raised his voice for the girl and wrote, "A 16 year old shouldn't be forced to apologise & that too allegedly for meeting @MehboobaMufti. What are we coming to!!!!!"
I've a problem with @MehboobaMufti trying to userp other peoples success to cover up her own failures but why punish/troll people she meets?

— Omar Abdullah (@abdullah_omar) January 16, 2017
Twitterati came out in full support and 'Zaira Wasim' and #StandWithZaira started trending on the micro-blogging site. Here's what people had to say.
Those who shout AZADI from the roof tops don't give an iota of AZADI to others .Poor Zaira Waseem had to apologies for her success Shame !!

— Javed Akhtar (@Javedakhtarjadu) January 16, 2017
If #ZairaWasim has to apologise then the whole India should apologise to her.

— Darab Farooqui (@darab_farooqui) January 16, 2017
Just thinking what was going through her mind before posting the apology ? #ZairaWasim https://t.co/vnnqwpxjCl

— Moody Allen (@rohanghuge) January 16, 2017
it is very unfortunate that people are criticizing #ZairaWasim for meeting a political leader and make that sweet kid to apologize. ?

— WANI ABSAR (@absar700) January 16, 2017
Zaira Wasim is a talented young girl to who has brought laurels to her community. She ought to be celebrated not demeaned #StandWithZaira

— Shakir Mir (@shakirmir) January 16, 2017
We've really came a long way. From empowering women to making a 16 yo girl apologize for being a role model. #ZairaWasim #Zaira #Kashmiri

— Vijay ?? (@vi_jaykumar) January 16, 2017
Really unfortunate that #ZairaWasim is being trolled for meeting the Chief Minister of her state. Jihadism has consumed the state completely

— Sunanda Vashisht (@sunandavashisht) January 16, 2017
It takes a lot of courage to speak against the so called mainstream in Kashmir. Knowing they will limit your opportunities. #ZairaWasim ?

— Shoaib Khan (@Smk_drift) January 16, 2017
#ZairaWasim
Dear Zaira u r an inspiration to million of Muslims like me .
Keep rocking & keep inspiring….

— Salman Siddiqui (@salluman) January 16, 2017
we should be proud of @Zairawasim , stop criticising her . what some people r doing thats the outcome of jealousy! I stand by #ZairaWasim

— shah Bazil شاہ بازل (@imSbazil) January 16, 2017
Pragaash girls were hounded out of Kashmir some years ago. The world deprived of a fine band. The brave #ZairaWasim now being targeted.

— Siddhartha Gigoo (@siddharthagigoo) January 16, 2017
I don't know why Zaira Wasim is being trolled for meeting J&K CM!! Wasn't Mehbooba Mufti elected by we(Kashmiris) only??#standwithzaira

— Zehra Shafi (@Zehra_Shafi) January 16, 2017
If you give religious reasons for abusing her for acting in a movie, I pity you. #ZairaWasim

— Mehreen. (@MehreenAlam_) January 16, 2017
Why this gender biased outrage every effin time? I didn't see anybody abusing Abrar Zahoor, Aamir Bashir or Sarwar. #ZairaWasim

— Mehreen. (@MehreenAlam_) January 16, 2017
#ZairaWasim first she was forced to apologise for been role model for Kashmiri
Now she has deleted her both tweets
What's happening ????

— Sameera Gawandi (@sameeratweeter) January 16, 2017
A 16 yr old apologizing for acting in a movie & for becoming a role model! Not the 1st instance that we have failed as a nation. #ZairaWasim

— I am ME ❤?⚡ (@Nilzrav) January 16, 2017
Shocking & unfair that 16-year-old Dangal actor Zaira Wasim forced to apologise by trolls. She met the CM, not Hafiz Saeed! #StandWithZaira

— Sayoni Aiyar (@sayoniaiyar) January 16, 2017
India's spineless #JeSuisCharlie crowd that takes 0 personal risks for themselves & their dear ones now tweeting #StandWithZaira #hypocricy

— Chitra Subramaniam (@chitraSD) January 16, 2017
Come'on world, she is just a kid. What are we putting her through! #ZairaWasim

— Sheikh Suhail (@Sheikh_Suhail) January 16, 2017
I'm not proud of what I'm doing…??? #ZairaWasim ?? Do you realise that you wrote this apology under pressure?https://t.co/QQ7bvYS3JS

— Ifrah Mufti (@ifrahmufti) January 16, 2017
This is disgusting. She didn't have anything to apologize for. #StandWithZaira

— Sana Shameem (@sana2742) January 16, 2017
Start your day the best way with the
Express Morning Briefing
The Indian Express website has been rated GREEN for its credibility and trustworthiness by Newsguard, a global service that rates news sources for their journalistic standards.