Moto G4 and G4 Plus are officially out, with the Plus version going on sale on Amazon India. Moto G4 will go on sale next month and the price will be revealed later. Moto G4 is an effort by the company to reaffirm its position in the budget smartphone space.
Moto G4 and G4 Plus offer better camera than its predecessor, while G4 Plus comes with a redesigned home button that also doubles up as a fingerprint scanner.
Moto G4 Plus' biggest competitor in India will be Lenovo's very own Zuk Z1, and Canvas 6 from Micromax if you go by the pricing.
Here is how the three devices stack up against each other in terms of just specs: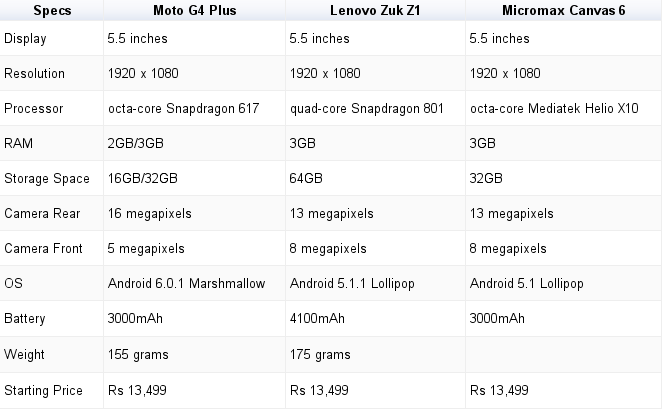 Moto G4 Plus: Moto G4 Plus features a design very similar to previous Moto G smartphones, but is now thinner than before. Moto G4 measures 7.9mm at its thinnest point, and weighs 155 grams. The difference is just subtle compared to Moto G3, and can't be recognised immediately.
Moto G4 Plus features a 5.5-inch full HD display with Moto Display Assist feature, which shows notifications even when the display is turned off. Moto G4 Plus has a Snapdragon 617 processor and comes in 2GB/16GB or 3GB/32GB storage variant.
Moto G4 Plus' home button now incorporates a fingerprint scanner. The rear camera is now 16 megapixels, and uses phase detection autofocus. Moto G4 Plus also has a 5MP selfie camera with display flash (similar to Apple's Retina Flash).
Moto G4 Plus' biggest differentiator, however, is the operating system. It runs near stock version of Android 6.0.1 Marshmallow. It is poised to get Android N faster than any other smartphone.
Moto G4 Plus will appeal to all those users who want to be on the edge of software updates, and prefer a bloatware free smartphone.
Lenovo Zuk Z1: Moto G4 Plus' biggest competitor comes from its parent company in the Zuk Z1. While Moto G4 Plus runs stock Android, Zuk Z1 runs the highly customisable Cyanogen OS.
Lenovo Zuk Z1 also has a 5.5-inch full HD display, and is powered by slightly older Snapdragon 801 processor. It comes with 3GB RAM and has 64GB storage, the highest one can find in this range.
In our review, we called Lenovo Zuk Z1 as the best mid-budget smartphone, but the crown could be Moto G4's anytime soon.
Micromax Canvas 6: Micromax Canvas 6 is the latest smartphone from the Indian smartphone maker. The company has been under pressure lately, and Canvas 6 is the comeback bet.
Micromax Canvas 6 with its wide and square design may not appeal to everyone. It also has a 5.5-inch full HD display and has an octacore MediaTek processor under the hood. Micromax Canvas 6 comes with 3GB RAM and 32GB storage.
Micromax Canvas 6 sports a 13MP rear camera, which is definitely not the best in the pack. It also comes with a 8MP front camera.
Micromax Canvas 6 also has company's 'Around Me' embedded deep into the system. It's slow and buggy at best. Micromax has done a decent attempt with Canvas 6, but the phone seems to be in need of some tweak for it to work.
Also read: Lenovo ZUK Z1 review: The best budget option, if you don't mind the old processor
Also see: Micromax Canvas 6 #ExpressReview: Good attempt, but some tweaking needed
Get the best of Tech news all week
delivered to you
The Indian Express website has been rated GREEN for its credibility and trustworthiness by Newsguard, a global service that rates news sources for their journalistic standards.
© IE Online Media Services Pvt Ltd