That's the line, later traced to seven call centres in a Mumbai suburb, that set off one of the biggest IRS scams of 2016, swindling US taxpayers of  $300 million. MOHAMED THAVER meets some of these call centre operators, now out on bail, to tell the story of a million-dollar heist. Photographs: Amit Chakravarty
On March 19, 1987, responding to an advertisement for "dynamic graduates for Intelligence Officers Post", over 30 people turned up at Mumbai's Taj Intercontinental Hotel for an interview with 'CBI officer Mohan Singh'. Once the 'interview' ended, the shortlisted 26 were taken for a "mock CBI raid" to a jewellery shop in south Mumbai, after which Singh decamped with the 'confiscated' jewellery, leaving the 'applicants' behind. The Opera House heist of 1987, unsolved till date, stunned the country and even inspired the Bollywood thriller Special 26.
Thirty years later, in another case, the IRS scam or the 'Mira Road call centre scam' of October 2016, some of those out on bail sing a similar tune: of being part of an operation in which they were convinced that they were legally collecting money on behalf of the US's Internal Revenue Service (IRS) when, in fact, they were part of an international heist, a scam that topped the American tax agency's 'Dirty Dozen' list for 2016. According to the US Justice Department, which has charged 61 people so far, the scam trapped thousands of American citizens, who ended up losing over $300 million (over Rs 2,040 crore) to people who posed as IRS officers.
Many of these calls were traced back to India, to seven call centres in the Mumbai suburb of Mira Road, where over 700 people would make thousands of calls a day to American taxpayers and allegedly trick them into transferring money. Five of these call centres operated out of one swanky glass structure at Kashimira in Mira Road.
The operation was simple: Americans would get voice mails on their phones in the name of the IRS, asking them to call on a particular number — the call centre's — if they did not want to be arrested. When they dialled the number — a device, Magic Jack, ensured that a US location showed up on their phones — the call centre operators would pose as IRS agents, accuse the victims of failing to pay their taxes, threaten them with jail time if they didn't pay up and ask them to buy iTunes gift cards or other retailers and transfer money immediately.
The Thane police have so far filed three FIRs and chargesheeted 80 people, a majority of them lower-level employees who made the calls. Now out on bail, these workers, for many of whom the call centre was their first job, have to turn up in court nearly once a fortnight to mark their 'hajri (attendance)' before a judge, followed by a visit to the police station.
The operators claim that while they did make calls, including some threatening ones, they were only following orders and that it was a team of nearly 10-15 owners, directors and managers, who, with their experience of running call centres, used bogus contracts to convince them that they were indeed collecting money on behalf of the IRS.
Police, however, maintain that all those they have arrested, including the lower-rung employees, were part of the conspiracy. Says ACP Mukund Hatote, the investigating officer, "On the very first day, they were given scripts that said they are calling from the IRS. How could they not know it was a fraud? And to make threatening calls to people, asking them to pay through iTunes cards? Which agency asks for payments like this? All of them knew all along."
******
Standing outside a Thane court with his "colleagues", now "co-accused", 19-year-old RD denies he knew "all along". (Since the accused in the case have requested anonymity, The Sunday Express has used initials of their names.)
"Just think of it, bro. It was not some business that ran out of a small room with doors and windows shut and with people coming in and out stealthily. There were nearly 700 of us, working day in and day out. These call centres had proper HR departments, trainers, and other facilities like any other office. Why would any young person ever think of it as a scam-school (a term he says he picked from his friends). For most of us, this was our first job. We thought, maybe this is how things work," says the teenager who claims he took up the job when he was only a few months away from starting medical school. "Since college was to begin only in the middle of October, I thought I would work for a few months to sponsor myself," says RD, who lives in Mira Road with his mother and elder brother. His mother works at a school for children with special abilities and his brother is unemployed. RD had cleared his Class 12 with 81 per cent and says he got into a medical college in Kandivali after "a high score" in the entrance exam.
That day, October 5, RD says, he was planning to step out to a nearby eatery for dinner, when a colleague offered to order in for him. "I wish I had gone out because 10 minutes later, around 9 pm, the Thane police raided our call centre and arrested all those who were present," he says.
He would spend 75 days in the 'baba ward' of Mumbai's Taloja prison, meant for younger inmates, which cost him his "life", he says — "The medical college struck my name off the rolls because I didn't turn up."
Waiting to sign the attendance register, the others with RD say they had their "doubts about what was happening" but couldn't do anything about it anyway.
VS, also a resident of Mira Road, says, "Of course, some of us had doubts. For instance, when the managers first gave us our scripts, which said that we had to identify ourselves as members of the IRS, I was taken aback. But when I asked them, they said they had been contracted by IRS to collect dues since labour in India was cheap. They also showed us a file which had documents and a lot of stamp papers and affidavits with IRS written on them. I have never understood all this so I believed them when they said they were 'authorised third party collectors' for IRS." The 28-year-old says he had almost seven years of experience in the industry when he joined the Kashimira call centre in August last year.
The accused call centre operators say there were times when US citizens would abuse them and call them "frauds". "We would complain to our managers, who would tell us that since IRS had recently outsourced collections, not many people in the US knew about it," says one of them.
Besides, they claim, queries about why they hadn't got their offer letters and contract would be met with "woh ban rahen hain (they are being prepared)". "The call centre I worked for had started operations only two months ago. They would use that as an excuse and say these were teething troubles," says VS, adding that "freshers" were paid between Rs 12,000 and Rs 20,000, while those with experience got Rs 30,000 to Rs 50,000.
IS, a 22-year-old for whom this was his first job, says that when he got his first salary in cash, his father, who works for the Brihanmumbai Electric Supply & Transport Undertaking, asked him why his employers weren't transferring money to his account. "I asked my manager and he said nowhere else do freshers get Rs 20,000 a month. He said the company — our call centre was called IT Park — was willing to transfer the salary to my bank account but then, they would only transfer Rs 10,000 as per 'industry norms'. Obviously, I told him I wanted the full amount. So I would get all that money in cash, with Rs 200 deducted as 'tax'. I think they did that to make it seem legitimate," says IS, who claims to have taken a "break" from BSc in Information Technology and joined the call centre for "pocket money".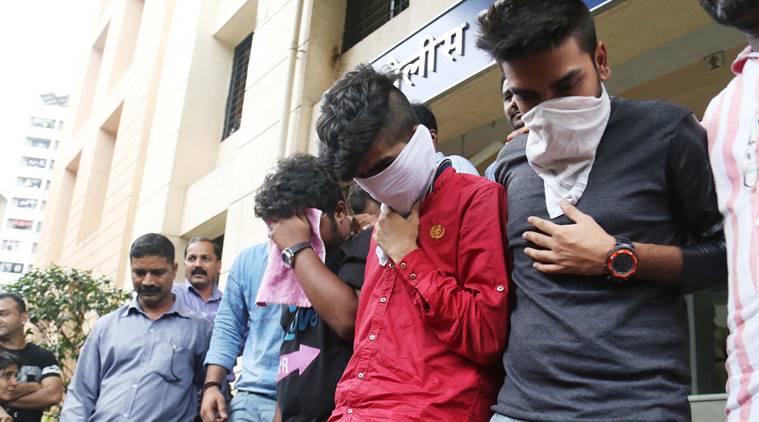 Santacruz resident GS "bhai" is a call centre veteran, with a decade of experience in the industry. A self-proclaimed "ace collector", he says he joined the Kashimira centre a month and a half before it was raided. "When we were told we had to ask US citizens to purchase iTunes gift cards and give us the code numbers instead of making direct debit/credit card payments for the overdue amounts, I was surprised. I asked them why we were not processing payments directly as is the norm across call centres. They said that since they had just started out, they did not have a 'vendor' through which they could process payments directly," claims GS bhai, who is in his early 30s.
"Many of us weren't convinced and were planning to quit after taking our salaries on October 10, our payday. The raids happened on October 5. I wanted to leave earlier but my wife has been unwell and is in hospital and I myself met with an accident a few months ago. I had medical bills to pay," he says.
Quitting wasn't easy anyway, the employees say. RD claims he tried thrice. "The first two times, I told them I wanted to quit because I was unsure about things. Both times they showed me the 'contract' with IRS and did not approve of my 'reasons for leaving'. Later, I said I wanted to quit as my medical college was starting. They called up my mother and when she told them my classes would start in a few months, they asked me to wait until then or they would not pay my salary."
Those out on bail say most of their colleagues came from middle- or lower-middle-class homes, for whom the money provided a much needed financial buffer. Among them is a 22-year-old woman, a teacher, who joined during the vacations to earn money for her wedding. Eventually, she got bail on December 6 so that she could get married on December 8.
PM, a Mira Road resident whose wife is among those out on bail, says, "We were going through a financial crisis and I had also taken some loans. So a few months before this happened, my wife quit her job that earned her Rs 15,000 a month and joined this call centre. She was told that a massive hurricane that hit the US in 2002 had 'swept away' the IRS's documents with income-tax details of thousands of Americans and that they would now have to call up US-based tax defaulters and settle disputes," says PM, standing outside the court with a relative.
PM's wife was among the top performers at the call centre — her colleagues say she was "promoted twice" within weeks to ensure she didn't quit.
******
The call centres had three simple hierarchies: the diallers, the closers and the managers. The diallers, who formed the lowest rung, were tasked with answering calls from the US by panic-stricken people responding to the voice messages on their phones.
The diallers at the Mira Road centre would respond by reading from a script: "Thank you for calling IRS. How can I help you today?" The victim, usually scared, would talk about the message he or she had just received on pending tax filings.
Police say the masterminds of the scam would have sourced the contacts of US citizens from illegal data brokers in that country. "These brokers sell data such as phone numbers and bank account details for a hefty price. The potential victims are people who have some pending issue with the tax authorities, thus making them all the more vulnerable to the con. The way it worked is, if on hearing the message on the answering machine, the US citizen ignored it, he was saved. If he panicked and called back, he was in trouble," says a Thane police officer.
IS, a 'closer' at the Kashimira call centre, says, "The diallers were the first line of communication — there would be nearly 50 of them in one call centre. They would usually be the ones with ordinary English-speaking skills. They had a script with ready rebuttals for all possible questions from the taxpayers. If the caller seemed interested in negotiating the payment, he would be transferred to the closers — nearly 12 in one call centre."
IS says the diallers would at times transfer calls even when the caller was not convinced. "That made our work tougher. We would have to have long conversations with the callers, quote laws from the IRS website that we would have pulled up on our computers. If they were still defiant, we would use laws to threaten them, anything to make them pay. There have been times when I have lost my cool. And if the caller agreed to pay, we would ask him to go to the local store and call back after they had purchased an iTunes gift card for the overdue amount," he says, adding that they worked between 7.30 pm and 5 am every day, with a closer getting at least five-six calls per hour from the US.
RD, the medical college aspirant, says, "We would then ask them to give us the code number of the gift card, which we would copy-paste on a notepad on our computers. Once that was done, I would raise my hand, following which one of the two managers would appear at my terminal, copy down the code and go to his bay. He would then do a thumbs up if the code was accepted, which meant the money had been transferred."
The teenager goes on, "I know for a fact that all the managers, not just ours but those from other call centres too, were on this WhatsApp group where they would send the codes collected at the end of the day and update their records."
******
The Thane police say they have unearthed these WhatsApp groups where managers — nearly 14 across the seven call centres — would update the "masterminds" about the number of gift cards they had got.
The managers, say police, reported to the "owners" of the call centres. "Most of these call centres were jointly owned by two to three people, who had invested in multiple call centres. Some of these investors have been arrested," says an officer. Some of the arrested managers and owners are in Thane jail and the others in Taloja. Their bail pleas have been turned down.
Police say several of these 'owners' also ran bogus call centres in Ahmedabad, where they ran variations of the IRS scam, but later decided to move to the Mira Road-Bhayandar stretch north of Mumbai, where property rates are cheaper. It also helped that there are a number of legitimate call centres in the area, which, police say, made it tougher for them to detect the fraudulent ones.
While there are several theories about who blew the cover, the most accepted one is that some former employees who quit these call centres had tipped off police. Police sources say their men hung around in the area for a few days before a team led by Thane Police Commissioner Param Bir Singh swooped down.
While the police are still working their way up the chain of command at these call centres, for now their trail has ended at Sagar Thakkar alias 'Shaggy', a 24-year-old who, police say, was the mastermind. They have little information on him, except that he worked in a few bogus call centres in Ahmedabad and shifted his operations to Mira Road. "It seems he made so much money that he even bought an Audi R-8 as a gift for his girlfriend. What's interesting is that he bought the car from cricket team captain Virat Kohli," says a police officer, adding that police suspect he is holed up in east Europe.
Back in the court, still waiting for his turn to mark hajri, RD says that with his "career in medicine as good as over", he has now decided to shift to commerce. "The Maharashtra Common Entrance Test has been replaced by the National Eligibility-cum-Entrance Test (for medicine) and the study material is a lot more." He then asks, "If I want to study medicine abroad, maybe Germany, will I be allowed? Someone told me that because of my case, my passport won't be cleared. Is it true?"
******
'Shaggy came and went… Hardly saw him'
Employees at the Mira Road call centres knew Sagar Thakkar alias Shaggy was in office when they saw his Audi R8 — a two-door sports car — parked outside or when they saw his bodyguards. They say "they hardly ever saw" the 24-year-old, who, police say, was the mastermind of the IRS scam. "He came and went," says a manager at the Kashimira call centre, who claims to have been among the few "senior-level people" Thakkar interacted with.
The manager also says Thakkar made it big only recently. "In fact, until a few years ago, he could not even afford to pay the rent for his Nallasopara flat (in the western suburbs of Mumbai), where he used to live with his mother before he shifted to Ahmedabad," he says. "He was born and brought up in Borivali (a northern suburb of Mumbai), but after his father made some major losses in business, they had to move further north to the relatively cheaper Nallasopara."
The manager says Thakkar's fortunes changed when he moved to Ahmedabad, where his elder sister Reema Thakkar lived after her marriage. "It was probably in Ahmedabad, where he initially stayed in a one-room apartment in the Vastrapur area, that he started working in call centres and came in contact with people who introduced him to these crimes," he says.
With Thakkar known to frequently change addresses, both the Thane and Ahmedabad Police are unsure where he last lived. Four years ago, he lived in Nandeshwar Apartments in the Vejalpur area of Ahmedabad. His neighbours there also say he hardly "interacted with them".
Police suspect that among those who introduced him to the world of bogus call centres was his "mentor" Jagdish Kanani, who is now under arrest. A Thane police officer said, "Kanani, who used to work at a call centre in Ahmedabad, had found out how these operations could be misused to earn money."
One of those who worked with Thakkar in Ahmedabad says, "Shaggy had once bragged that before he got into the call centre business, he was in the business of data theft — selling at high prices all the personal data he got from abroad. This seems to have worked for him and he soon started a call centre in Ahmedabad and then went on to set up centres in the Mira Road-Bhayander belt."
As the call centres were raided on October 5, Thakkar fled the country with his sister Reema, says a police officer, adding, "What is surprising is that he is just 24 and, at least so far, it seems he is the one who ran this entire network."– (With inputs from Satish Jha)
******
Chronology of a Con
On October 5, Thane Police raid seven call centres in the Mira Road area of Mumbai and arrest over 70 people, uncovering a massive scam to cheat thousands of Americans. But this had been building up in the US for a few years. In January 2016, the US Treasury Inspector General for Tax Administration had announced that since October 2013, they had been receiving reports of over 5,000 victims falling prey to phone scams. In 2015, a man called Sahil Patel had been sentenced to 14 years in prison in New York for running the US side of a huge IRS fraud that used call centres in India.
In India, the Thane Police names Sagar Thakkar as the mastermind. He has by then fled the country with his sister Reema.
On October 27, US Justice Department charges 61 people and entities with taking part in the scam in the US
On December 2, Thane Police files a chargesheet in the case, charging 80 people.
On December 6, three people, including a 22-year-old woman who was to get married on December 8, are released on bail. Four others are released on bail on December 18, the others on January 9. Most of those released are lower-rung employees while the managers and the owners are still in jail.
Police are currently probing the roles of 630 other employees. If found complicit, they will be named in the second chargesheet the police plans to file.
******
'Police will be at your doorstep in 30 min'
An extract from a script provided to 'diallers' and 'closers' at the call centres.  The script has been reproduced verbatim.
My name is Shawn Anderson with the department of legal affairs, with United States Treasury departments.
We called to inform you about a legal case filed under your name by Internal Revenue Service under which you are listed as a Primary Suspect.
Now I want you to grab a pen and a paper with you so that I can provide you with your case id number
CH76295. Now this is your Case Id no and I even have a legal Affidavit against you which is issued by Internal Revenue Service. If you allow me I can read the affidavit to you. So that you will come to know what is your case all about.
But when I read the affidavit to you please don't interrupt me in between because the lines on which we are right now is been federally monitored and recorded so if you have any doubts any questions ask me once I done reading your affidavit. So I can answer all your questions….
Let me also notify you that we work through a Computer management system, so as soon as this call is hung up, either by my side or either by your side, Your case file will be active to the local Police department and your warrant will be issued, which means that the police department along with our IRS investigation officer will be coming at your doorsteps or at your work place within 30 minutes and they can keep you under their custody for next 2 months.
Start your day the best way with the
Express Morning Briefing
The Indian Express website has been rated GREEN for its credibility and trustworthiness by Newsguard, a global service that rates news sources for their journalistic standards.